Dorian Opera – No Secrets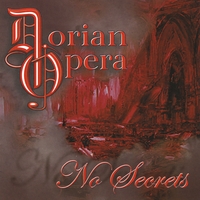 2008 Mals Music Ltd.



Built upon the solid ground by established musicians, who have jazz & classical in their background to flex their might in rock/metal, Dorian Opera find themselves gripping both the melodic and song structuring of progressive metal rather than the whole big massive symphonic tangents that often eat a record alive of any tuneful gusto. Of course you hear all the big technical influences as well as the hard rock/metal influences including Rush, Uriah Heep, Dream Theater, Marillion, and Rainbow – all done with classical synthesis that keeps it to a level of accessibility rather than, say 'excessability.'



While Dorian Opera works collectively on the music, its keyboardist Andrew Roussak that writes the lyrics, nevertheless the whole group's compositional input gives No Secrets a band feel; everybody's influence shows up in the tunes. Cuts such as the opening passage "Ouverture," the hard-edge neo-progged title track, the aggressive, jam happy vibe of "She," and even the minstrel balladry of "Fly With Me" lean things into the art-metal/art-rock vein while the other side of the record's musical mindset portrays a more rock and roll feel with the Sabbathy "Sacrifice," the hard driving "One of These Days," and the power metal-ish "Dead or Alive;" yet everything is still done with classy technicalities.



This quartet possesses strength to give their songs room to breathe musically without going overboard – each musician shines on his own laying down leads, hammering down all the low end and rhythmic elements, with Roussak himself switching between various synths and keyboard textures. The vocals could use a little work, sounding a bit spontaneous, live, and in the moment, but it doesn't take away from the record's overall vigor. No Secrets is one of the few progressive rock records that can still convey the real spirit of rock and roll – the improvisations are kept to a melodic level of impulsiveness while the hard driving atmosphere keeps it all real.