Kinetic Element – Powered By Light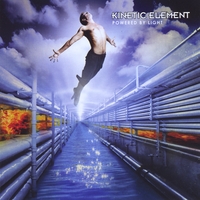 If it's designation and disclaimer sounds futuristic, it's for good reason. Like the starmen had done in Close Encounters of the Third Kind, the musical expressions in this release could only come from highly-intelligent lifeforms. Much of its mimicry is provided by organs, Mellotrons and synthesizers, and its artificial sheen has an uncanny resemblance to Transatlantic. The folksy vocals, however, is what sets this apart. Like the celebrated supergroup's incandescent output, this is heavily laden in keyboards too. Transcending details about the many tools available to a pianist, Tony D'Amato's bass actually resembles Pete Trewavas' sinuous waveforms. Then again, Todd Russell's guitars and Michael Murray's drums radically deviate from Roine Stolt and Mike Portnoy's telemetry, respectively. Nevertheless, the subtly, swank style of this reflexive duo is welcome in the mix.
Regardless of what this ringer and his ready abettors do, the music would still share traits with Transatlantic. Above all, Mike Visaggio's pianos, especially in the interludes, do a sound impressions of Neal Morse's limber fingers.
While the vocals are interesting and snuggle well within the layers of this silky fabric, the band is so strong instrumentally; they should considering getting a hired gun to rifle out their prophetic lyrics. As for the reverent verses intoned by the visionary named Visaggio, they are peaceful, smart, and sterling. In other words, the thoughts he chooses to induce are exclusively serene and introspective in nature.
None of the songs specifically jump out as needing their own separate mention. There is consistency and clarity in their signal throughout the entire transmission. On the whole, the lustrous messages they bestow – whether spoken or played – are positive and upbeat any way you scan it. Reading between the lines, the underlying convictions are divine, but their maxims are purely non-secular, so there is no hidden agenda in there; though they do give thanks to the One and their wives (although in some of these households this may be the same). In the end, the album sustains itself with a righteous energy that raises spirits and lightens minds.
As an aside, Michael Visaggio states that the M is for Music and the V is for Voltage. Due to Kinetic Element's artistic value and the obvious puissance required to power so much electrical equipment, the two platitudes are a no-brainer, which is the only aspect of their applied potential that is dim.