Imminent Sonic Destruction – Recurring Themes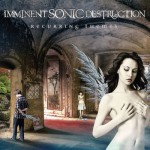 2012 Imminent Sonic Destruction (Independent)



Progressive metal is at a crossroads – we have gotten way past the point of every band trying to pin themselves as the next Fates Warning or Dream Theater while writing yawningly atrocious symphonies, concertos, & wanky solos where the musicianship has completely eclipsed the songwriting with ideas being recycled over and over again, as the lack of real musical direction and focus tends to be the 'keeping up with the Joneses/safe as milk' status quo these days – as long as some 'progger' both praises and dismisses it as daring, I guess it's good to go, right?



But even as the genre has come full circle in recent years with a host of great melodic acts such as Circus Maximus, Above Symmetry, Twinspirits, & Awake, just to name a few, have brought the lost art of arena rock songwriting back to the table, there still needs to be some type of contrast, and one that is listenable rather than some type of opus or experiment, per se.



Bringing about a more hostile sound to the prog metal aura is Detroit's Imminent Sonic Destruction, formally known as mellotron_, ISD possesses the fervor to deploy whatever musical might they have to be intertwined with melodic ideology that their dark riffage entails, but they do it with class and not out of desperation. Produced by Roy Z (Halford, Bruce Dickinson), they dub themselves as 'Super Progressive Metal' – hence they are moving the music forward and keeping it fresh and real, yet Recurring Themes isn't necessarily an out of bounds album.



The record mixes the intensity and musical dynamics of Symphony X, Threshold & Systematic Chaos with flexibility ala Prong, Devin Townsend, Tool, and even Radiohead for some of the more eased back moments – take for instance tunes such "Sick" & "Monster," their passionate metal assault exemplifies the band's hostile songwriting skills, there is also assorted attitudes hard within "With Death" & "Temple," which start out as ballads but as a crescendo will entail, they eventually annunciate aggressive metal mantras – so it's immediate that the album isn't just some garden variety of the whole paint by numbers scheme. There are three extended tracks – they aren't jerky, as the music flows from one key change and time signature to the next as opposed to sounding as if someone rudely interrupted a song, for which "Driving Home" battles up between the all out thrash vs. lush melodic passages, "Breaking Through" follows similar suit, but is dominated by intense metal monologues, and "Raven" is the album's multifaceted epic tune.



So with that said, there is something for everybody here, it's heavy, it's sophisticated, it lacks the pretentious vibe of many art-rock albums (a good thing, of course), plus you have the hooks, the catchiness, alongside the fierce riffs, dark edgy sound, solid production from Roy Z (Halford, Bruce Dickinson), occasional extreme metal growls, and keyboard flourishes across the board.



Led by vocalist/guitarist Tony Piccoli, Imminent Sonic Destruction, is not some gimmick – hails to this band going ahead and unleashing the record without having a deal, instead of sitting on their ass and waiting for their big break. Being a step ahead of the game, they have toured, they have recorded with a real producer, and they are chasing it while saying 'here we are, so shut the fuck up and listen' – but needless to say, this is the best InsideOut Music album that's not on InsideOut.