Archival Interview: Keyboardist Richard Andersson (Time Requiem) from 2005
Thirteen Quick Ones with Richard Andersson.


by Tommy Hash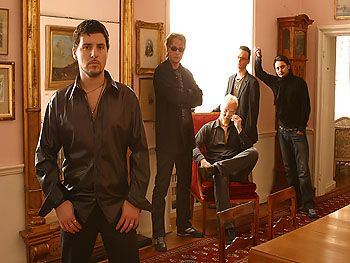 Time Requiem w/Andersson (seated)
Originally conducted in the fall of 2005 off the heels of Richard Andersson's "The Ultimate Andersson Collection" and Space Odyssey's "The Astral Episode," both unleashed only months apart in '05, the keyboardist gave a quick update at what was his current standing in the world of symphonic and neo-classical metal. Since then he has unleashed "The Optical Illusion" (w/Time Requiem) and "Tears of the Sun" (w/Space Odyssey) and he appeared on the 2008 release of Alex Beyrodt's Voodoo Circle and Expedition Delta's self-titled album released that same year. Having built up a following, the world awaits the follow up to many of these projects. This Interview Originally appeared in RevelationZ.net, the website went offline and closed in September 2011.



He is a keyboardist, producer, and composer of huge proportions, being a member of neo-classical outfit Time Requiem as well as forming his own project Space Odyssey. Coming of the heals of his latest solo release with the Odyssey, I had the chance to ask Richard Andersson some quick questions about his latest effort where he gives insight to everything from what inspires him to write, his production, and even a little about the business side, tapping into the mind of one of metal's most captivating keyboardists.
Tommy Hash (The Hashman): First off, How would you say The Astral Episode differs from the very first Space Odyssey record, what direction do you feel you went into when refereeing to the writing and what direction you went into musically?

Richard Andersson: I see the second record as a following to the first one. It's the same kind of music but this time with more focus on the compositions and the production in common. On the first record there were 2 or 3 songs that I really liked, on this new one I have 4 or five favorites already.



TH: After hearing the record, there seems to bee great chemistry between all the members of the band. What is it like working with fellow musicians Johannson, Brobjer, and Nilsson?

RA: Extremely loose and calm! All the members are professionals and very good in what they are doing. They are all good friends of mine.



TH: What inspires you musically and lyrically, and was their anything in particular that inspired The Astral Episode?

RA: My lyrics are all based upon pure fiction with no Christian sentiments or hidden messages. My music though, is based upon pure passion for good melodies.



TH: Tell me about the recording process. How has digital audio workstations changed the way you have worked over the years as a producer and musician?

RA: I compose the songs by myself and also take care of the arrangements and the producing stuff. Later on I send out pre-productions for the musicians to rehearse along with. Finally with get hooked up in my studio recording everything for real.



TH: You use a lot of different keyboard sounds on this record, what is some of the equipment you use to get some of the sounds?

RA: Well! I use a bunch of different sound modules, keyboards and software keys. Basically! If I want a special sound I simply get it and it doesn't matter how I get it. Normally I do my samplings by myself from different records and sound libraries.



TH: When doing music for Space Odyssey and then Time Requiem, are there any transitions involved between the two, or actually, what are some of the major differences.

RA: The people involved and a bit of the music. When I am composing for the different projects I totally get in to the certain one.



TH: What was the basis for choosing musician/producer extraordinaire Jonas Reingold (Flower Kings) to help you mix the record?

RA: Well! Basically the record is produced all by myself using Jonas' studio and qualities. Nowadays I will record everything in my own studio including the mix.



TH: Do you have any formal or classical musical training in your background? If so tell me about it.

RA: Not at all! I am totally autodidact. I have learned how to play just by listening to my heroes.



TH: Being signed to Regain Records, what was the basis for signing to them?

RA: They helped me out when I was in the middle of the shit with Majestic and the business partners included. Regain has helped me a lot in my career.



TH: Are you planning any more side projects or are you planning on playing on anyone else's records at this point. Have you considered writing music for film?

RA: Right now I am doing a collection album with a selection of songs from all the Majestic, Time Requiem and Space Odyssey albums I´ve done. The songs will all be new recordings as I feel the production is a bit weak on some of the earlier CDs. I will also slightly re-arrange the music and the solo parts and put a brand new bonus cut on it. I still love those old songs. Göran Edman (ex. Malmsteen, John Norum) will sing all the songs. Sven Cirnski of Bad Habit will do some guitar too. Composing music for a film would be awesome.



TH: Are you planning on touring behind this record?

RA: We'll see!



TH: What can we expect from Time Requiem in the future?

RA: A lot! Many records with good music.



TH: Tell me about some of the highlights in your career.

RA: Touring with Symphony X, touring in Japan and meeting all these good musicians.



Weblink: http://www.anderssonmusic.com/