Interview with ROINE STOLT: Anderson / Stolt, The Flower Kings, Kaipa, etc…
-Words By Tommy Hash
Multiple segments, reoccurring themes, a similar melody popping up every now and then, plus the thread that pieces everything together; it's sort of that nature of progressive rock. For Flower King and Transatlantic traveler Roine Stolt, that's easily said and done, having appeared on over forty records during his career. After years of working with musicians Steve Hackett, Mike Portnoy, Pete Trewavas, Neal Morse, Hans Lundin, Andy Tillison and many more, Stolt has become a legend on his own. But now, a new album sees him working with someone who literally helped create the progressive rock genre.
It was a meeting in 2014 during the Progressive Nation At Sea Cruise that Stolt would bump into former Yes frontman Jon Anderson; not just for a handshake, but for Anderson to jump on stage and play a few tunes with Transatlantic – and the rest is history. Even before this performance happened, Inside Out's Thomas Waber had hopes that maybe he could bring the vocalist and the multi-instrumentalist together to make a record. So after suggestions, conversations, and holes found within everyone's schedule, Invention of Knowledge (Inside Out)finally came to fruition. The new record is not a Yes clone or The Flower Kings featuring Jon Anderson, it marks a new chapter in the books for both. While everyone's vibe foreshadows what beholds, there is a little bit of reflection upon other projects including Anderson's work with Ponty, Vangelles, and some of his solo outings while Stolt's presence as a guitarist and producer in context drives a lot of the emotion as well both the musical spirit & authority of the record alongside Anderson's commanding voice. It's like a visit from old friends, as well as a lot of other friends who say hello on the record.
Stolt speaks about the step by step, day by day process of how this finally made it to disc.
TOMMY HASH: Having met Jon during The Progressive Nation Cruise, what all happened for this record to finally happen, from the ideas all the way to the recording process?
ROINE STOLT: I was on that ship with The Flower Kings and Transatlantic; Jon Anderson was playing a show with just his acoustic guitar singing, talking and stuff like that. A couple of months before the cruse, because I was scheduled to do the tour with Transatlantic on the boat, we got connected with Jon, and asked if we could do some Yes songs and he suggested both "Long Distance Runaround" and "Starship Trooper." These songs were definitely something to learn, being that they are far away from the twelve-bar blues. It took a bit of preparing the songs and everything. Then he said, in a very typical Jon fashion, "oh, I woke up this morning and I was thinking we should do side one From Tales from the Topographic Oceans." I thought that that piece was a bit complicated, twenty minutes of music. Personally I love Topographic Oceans and I said, "yeah, I'll do it." Rehearsing and learning that piece was a lot of work but we learned it, so we finally got there and we played the show, which was the final concert of the cruse. People got excited; it might not have been perfect, but it was great to be on stage playing these old Yes songs together with Jon that we had all grown up listening to. To rewind a bit further, Inside Out boss Thomas Waber spoke to me a couple of times suggesting, "Roine you should do something different, you have The Flower Kings and Transatlantic, how about (doing an album with) Jon Anderson." I loved the idea, but I thought (Jon) would be too busy. Thomas suggested it again, asking me about working with him and I of course said, "it would be nice." This idea came to fruition about a year before the cruise. The morning after our show we played with Jon that previous night, I had breakfast with Thomas and again he said, "Roine, I really think you should work with him, we should talk to Jon and put something together," so that was the big starting point. Thomas sent an e-mail to Jon, saying that here is this guy who you played together with on the cruise and I think it would be interesting if you two would write music together. So it took about an hour before I got an e-mail from Jon and he quickly started sending me music. And things got going from there. But honestly, we didn't know at the time how it would work out, or how we would find a way to collaborate; but it happened.
TH: The one thing about this record, it's not an all out Yes clone, nor is it a Flower Kings album. It's something unique with everybody's personal touch imprinted in the music.
RS: The way we wrote the record was by Jon sending audio files and midi files. He would say, "have fun with his, do whatever you feel." At the time there wasn't really much of an idea of what it would really become. He had sent me all these ideas and I started making sense of this puzzle with different ideas coming to me where I would deliver the pieces of music. The only thing Jon said to me was, "let's not think progressive rock, let's not look too close to making Yes music. Let's just try to make progressive music; whatever you feel, you can bring in anything." That was the starting point as far as writing and production was concerned. Look at is this way; working with Jon, how could you not want to work with him and not think of Yes. That's a big part of his life, his legacy, that's Yes. He was in Yes, one of the biggest prog rock groups of all time, so you can't really disconnect 100% from the Yes legacy. But I tried to not think too much Yes all the time, I really had to look at this music coming in from Jon. He had certain ideas about things, such as the way we could orchestrate it. At that point, I went through some music that I already had. When working with music, I don't think that much, it's not like there is this plan where the music is going to go; it's more like the music takes me to wherever I need to go. I tried to be open minded about whatever he was asking or whatever his visions were with a particular piece of music; the both of us would work from there and we started to come up with something that looked more like an album. That was something that was gradually growing and at one point, we realized that this was working. Jon liked what was being sent to him. This went on for about 6-8 months before we stared planning on production using all the different musicians and putting the final recording into action. For me there really wasn't a plan, but I think Jon had a plan. I was just happy to be doing this because it was different from working with Transatlantic and The Flower Kings; this was new and fresh. Making this happen also made me look at Jon Anderson's voice thinking, "what can we do with this?" So this just took off from there.
TH: As Jon is known for the depth of his lyrics, did you have anything to do with the lyrical content?
RS: Jon did have a lot of lyrics in the beginning, but Jon rewrote half of them, literally rebuilding the songs. That is kind of a strange, but interesting way to work. He would send me stuff and I would get an impression of the music and then work on it, send it back to him where he would listen to what I had done. He'd say, "Ok, I need to rewrite the lyrics," and we would bounce ideas back and forth. In fact, he wrote the final lyrics only a couple of weeks before the mixing. Even when we were recording the rest of the band, the bass, drums, keyboards, he was still modeling the lyrics and the songs. So it was Jon who wrote all of the lyrics and his lyrics do more than tell a story, they take you to a different place.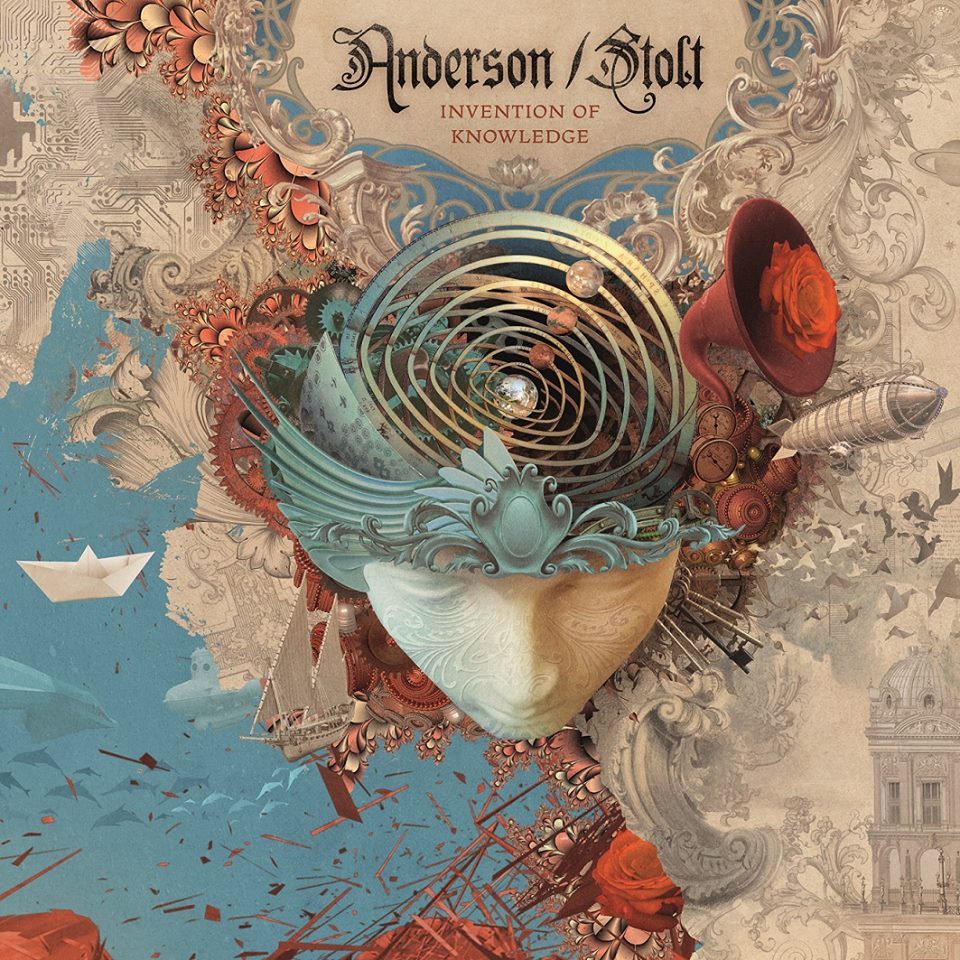 TH: You have a lot of players on the album that you have worked with in the past (Tom Brislin, Lalle Larsson, Jonas Reingold, Michael Stolt, Felix ehrmann as well as Daniel Gildenlöw, Nad Sylvan, Anja Obermayer, Maria Rerych and Kristina Westas). How do you feel that they contributed; they all give the album a real band feel.
RS: When we started there wasn't anything said about how we were going to go about it. You think, are we going to go with a drum machine and just me playing synthesizers? I certainly wasn't keen on that idea (laughing). I wanted for us to bring in a band. Jon has been doing stuff with Rick Wakeman where there are people playing keyboards and sequencers. It's beautiful music, but sometimes I think that having a real band is much better than playing in a sequencer environment. A band brings music alive and that's was I was hoping for. Giving the nature of this project, there was thought about who could possibly be brought in. It's Jon Anderson so I thought I could just about bring in anyone. If you ask someone if they want to play on an album by Jon Anderson, Dave Grohl or anyone would want to get in on the action. It was wise to get people in that I was used to working with, knowing what they do, knowing what their reaction will be in the studio. With that in mind, you have less of a chance of running into roadblocks, personalities, egos and things like that. So I decided to work with these people who work very, very fast; they are people who can deliver. Also the level of musicianship I would get is always amazing.
TH: With the record coming together like it did, may we expect another?
RS: Let's put it this way, I can't really say why we shouldn't, it's all depending what I'm doing at the time and what Jon is doing at the time. At this point, Jon is going out in tour Trevor Rabin and Rick Wakeman; that might take up a lot of his time and In reality it could take some time in general, but I don't know.
TH: What about The Flower Kings and Kaipa, or any other projects you might be working on?
RS: Honestly, as The Flower Kings, we have been making records and touring since 1994, just about every year; that is a long, long time. We have been around for over twenty years and it just felt like we should rest for a little while, see what comes, see what happens and see where the inspiration comes from. I've been working with this new album with Anderson, plus a new album with my old band Kaipa, as we've been working on that upcoming album for a couple weeks now. It's different, and that's what I'm looking for in life and in music. To do something that is inspiring that's different and not fooling yourself in doing something because people expect it or people expect the money and all of that. It felt like a strange thing when (The Flower Kings) stopped, because we are all still friends, there nothing wrong really. However, before we do something, we really need to be ready to do something interesting and unique. I think that's the same thing as Transatlantic. Again it's not the end, we'll just see when the inspiration comes. But for now I love what I have done with Jon Anderson and am looking forward to working with my friends from the 70's in Kaipa. Having just got back from Steve Hackett tour, life and music right now is in a good place me. It's best for me to leave the future wide open with curiosity and no expectations or predictions.
Copyright & Publishing: 2016 Tommy Hash for Ytsejam.com
Please Also Visit:
http://www.insideoutmusic.com/