Lisa S. Johnson – 180 Rock Star Guitars (Book)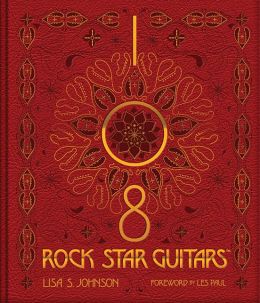 We all have heard the various stories about the guitarists and their axes; how birth was given to that particular riff, how a style was developed, and why they play the instruments they play. Yet few books have actually shown the blood, sweat, and tears, the guts & glory which have literally created the scars that made a particular weapon of choice unique alongside the six string slingers themselves as a further extension of their personality. They say a picture is worth a thousand words, and with 108 Rock Star Guitars, photographer Lisa S Johnson creates pictures that are worth millions of them.
A warts and all collective on many famous guitars (& basses too), the detail of natural wear and tear brings us through many an axe's journey through clubs, arenas, tour busses, studios, and just about any place in time where one wants to pick up and play. Johnson covers a whole plethora of instruments running from the immaculate (Steve Lukather's Music Man and Adrian Belew's Parker Fly), through many that have their fair share of road miles (Springsteen's Esquire & Rick Neilsen's checkered Hammer Explorer), through insane modifications (Zakk Wylde's "Rebel" Les Paul sporting the bottle caps), and even one's that are beat all-to-hell (Willie Nelson's priceless and infamous "Trigger"). But it's not just the guitars themselves, the blemishes also raise a lot of interest – For example, look at the hole that is worn above the pick guard of Johnny Winter's Gibson Firebird, all those scratches on Brian May's Red Special, and the worn out snakeskin on Warren DiMartini's Charvel Python; what classic riffs did these guys come up with, what songs did they write, and where were they when all of these beauty marks & battle wounds were created. Emmylou Harris once spoke about a guitar she had with a cigarette burn on it and how someone had offered to remove it; she quickly replied by saying "it would never sound the same again;" I'm sure all of these artists share the same attitude towards their possessions; who wouldn't?
Even attitudes are exposed with impromptu artwork, stickers and carvings as both Robby Takak & Johnny Reznik know how to make punkish statements that stand out on their instruments. All of this confirms that to create something perfect, you have to create imperfections. Heck, even the way a guitar was held or played can be seen by rub marks found on say, Joe Satiriani's Ibanez, Don Wilson's Fender Jaguar, and Dean DeLeo's Telecaster among others. It's the human element that is cast upon the machinery that is in full exposure throughout the 108 Rock Star Guitars.
Through the close ups of signatures, serial numbers, customized paint jobs, and other modifications, Johnson's angles and various lighting techniques are used add to superb effect, even making Ted Nugent's black Gibson Birdland look like a landscape, plus she exposes the detail of the rare coveted paisley design used by Fender on Dewey Bunnell's Tele. Even the elaborate artwork on many of Sugizo's axes ask the question; are these guitars or are they works of art? The answer, yes.
Obviously these are one-of-a-kind instruments, and as you can see the one-of-a-kind title has been earned well over the years. It leaves you in awe,  just getting to see the close up of the pickups on the Gibson SG Doubleneck that spewed "Stairway to Heaven," is an honor . The justice that Johnson has done with her photography has given us views that even a visiting these guitars at a museum might not even give us, one look at this book and you'll never look at these same instruments the same way again.
Copyright & Publishing: 2014 Tommy Hash for Ytsejam.com