United Progressive Fraternity – Fall in Love With the World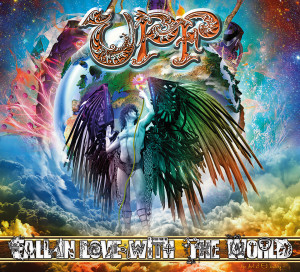 We all know about the progressive rock supergroup; it's something based on a story, book, or film, everybody cranks up the laptop, fires up their network servers, plays their parts, opens up their e-mail, hit 'send,' everyone says their "hi's" and then their "bye's" – the fans of prog often say their byes quickly as the next best thing comes up in a scene where everything tends to be here one minute and gone the next; and as for non-proggers, they don't even say 'hello' to these albums. True progressive rock is an acquired taste and within the taste, many acquired flavors are present; but every once in a while there is a release that gives something for everybody; especially when a collective comes together organically and creates something out of a multitude of influences, emphasizing the songwriting skills, with production that actually puts a band together as a family and not just through a set of 'digital files.'
As Unitopia's split marked an end of an era for prog, it wasn't the end at all, for it was a new beginning. The band, which had delved in classic progressive rock with modern neo-progressive sensibilities adding a flare for jazz, fusion, and even ethnic elements, had explored just about every end of the art-rock spectrum (except extreme and insane math rock paths; no heartbreak of course), has been reborn as United Progressive Fraternity sees former bandmates Matt Williams, Dave Hopgood, Tim Irrgang and of course Mark 'Truey' Trueack staying in unity along with Maschine bassist Daniel Mash who's presence adds intensity alongside woodwind extraordinaire Marek Arnold; plus you have Guy Manning in the fold, who carries the torch for British folk ala-classic Tull/Fairport, combined with his storytelling and unique conceptual approach which places us within the song as we can relate to his expressions one way or the other. All of this and much more.
Fall in Love With The World immediately starts out with a ballsier sound, with the opening Overture ("We Only Get One World") igniting a bombastic symphonic epic color from the record's palette, and from that palette a painting of eased back classic Unitopia sounds mixed with a symphonic backdrop of honking saxes and lush stylings in improvisation against the Rothery/Gilmour axe attack as bold harmonies holding down the fort for pop riddled sensibility; oh yeah, this is only the beginning. From the jazzy sax riddled "Intersection" to the folksy title tune, there is an abundance of creativity, but that spark of imagination doesn't let the record slide away from the singer songwriting manifests that breathe a whole other type of life into UPS's integrity; for which that is satisfied with "Religion of War" & the groove riddled "Don't Look Back," as the latter mirrors later period Genesis. Even with all involved having been known to turn their heads slightly away from metal, there is some grinding fury to be heard on tunes such as "The Water" and "Traveling Man," as hints of Dream Theater are beheld.
A whole host of guests also rear their heads to add various personalities to the mix; Steve Unruh (Violin and Flute), Jon Anderson, Steve Hackett, vocalist Claire Vezina, Guillermo Cides (stick bass), Brittany and Holly Trueack (Backing vocals), Jonathan Barrett (Fretless Bass), Ian Ritchie (Sax and flute), and arranger Steve Layton – nothing is wasted upon appearances, everyone's talents and personalities are utilized with vivid detail; and in the end, the record is devoid of sci-fi anomalies, taking aim lyrically at a realistic worldly view of our society – and there is no tension or desperation, not being burdened by what their peers are up to. So it's everything you would expect, living up to the challenge loudly.
Hashman's Final Words: So every once in a while there is something in art-rock that is unleashed which can really grip the soul, and that's coming from yours truly, a rock and roller, an AOR, melodic rock/metal basket case (damn proud of it too!). If this record can spark an attentive nerve with someone who is often indifferent to the prog scene, just think of what a progger might think of it.
Copyright & Publishing: 2014 Tommy Hash for Ytsejam.com